Tokyo Wind Symphony Orchestra Profile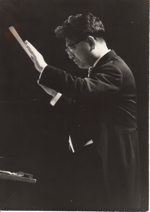 Mr. Masato Yamamoto
The Tokyo Wind Symphony Orchestra, Tokyo Suiso Gakudan, was established in 1963 by Mr. Masato Yamamoto, a famous composer and professor of Tokyo University of the Arts, along with a group of passionate wind players and percussionists. It became the first professional wind symphony orchestra in Japan and hosted its first concert in November of the same year.
Since its founding, the orchestra has continued performing in subscript concerts and special concerts. It has also made TV appearances, made recordings, and played at schools all over Japan. The orchestra is widely-known by the nickname Tousui and actively contributes to the development of wind music in Japan. Additionally, it received an award from the Agency for Cultural Affairs in Japan for its contributions in music by producing a number of distinguished musicians and participating in art festivals.
In 1983, Mr. Yasuhiko Shiozawa, a well-known wind band conductor, joined the orchestra and has been active in its continued development.
In 1993, the orchestra was awarded The Japanese Wind Music Academy Award, in the performance department, by the Japanese Wind Music Society for its service to wind music in Japan and its continued performance activities.
The orchestra has also hosted some well-known musicians in many of its concerts. French trombonist Michel Becquet appeared in the 38th and 52nd periodical concerts. Dr. Brian Bowman played in the 39th periodical concert. Guy Touvron joined the orchestra in the 40th periodical concert. Erik Whitacre, a young and spirited American composer, gave the first performance of his two pieces in Japan at the 52nd periodical concert. As a result of the orchestra's numerous and varied guest appearances, the orchestra continues to expand its musical repertoire. It invited a young and genius flutist Denis Bouriakov, currently the principal flutist of The Metropolitan Opera Orchestra for the 54th periodical concert. Moreover, Olaf Ott, the principal trombonist of Berlin Philharmonic Orchestra, played in the 55th concert. Both the 54th and 55th concerts won recognition for their popularity.
The orchestra utilizes its rich experience in educational programs which were started soon after the group was established. The orchestra conducts out-reach activities and has been applauded for those activities throughout Japan.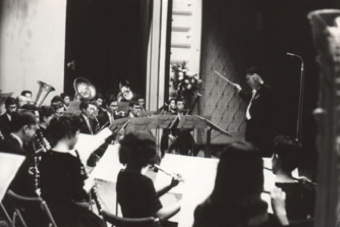 That time of 1963
Sorry,Other content is only Japanese.