Yasuhiko Shiozawa Conductor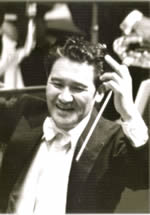 Born in Niigata Prefecture in 1938, Yasuhiko Shiozawa studied the trombone under Masato Yamamoto and conducting under Noboru Kaneko at Tokyo National University of Fine Arts and Music. He was a bass trombonist in the Yomiuri Nippon Symphony Orchestra for eight years while receiving practical training in conducting under Hideo Saitoh at Toho Gakuen School of Music.

In 1967 and 1970, Yasuhiko Shiozawa received honorable mention at Tokyo lnternational Music Competition for conducting, which was organized by Min-on Concert Association. After winning second prize in 1973 at the same competition, Yasuhiko Shiozawa successfully launched his career by conducting orchestras in all the major cities in Japan. In 1975, he went to Berlin School of Music to study under Herbert von Karajan.

Since returning from Berlin, he has been very active and has conducted many leading orchestras in Japan, including The Tokyo Wind Symphony Orchestra. As an educator, he has been teaching as an emeritus professor at Tokyo College of Music, where he conducts Symphonic Wind Ensemble. In 1999, he received the 9th Japan Wind Band Academy Award by Japan Wind Band Academy. He is currently serving as an Conductor Emeritus of Tokyo Wind Symphony Orchestra.